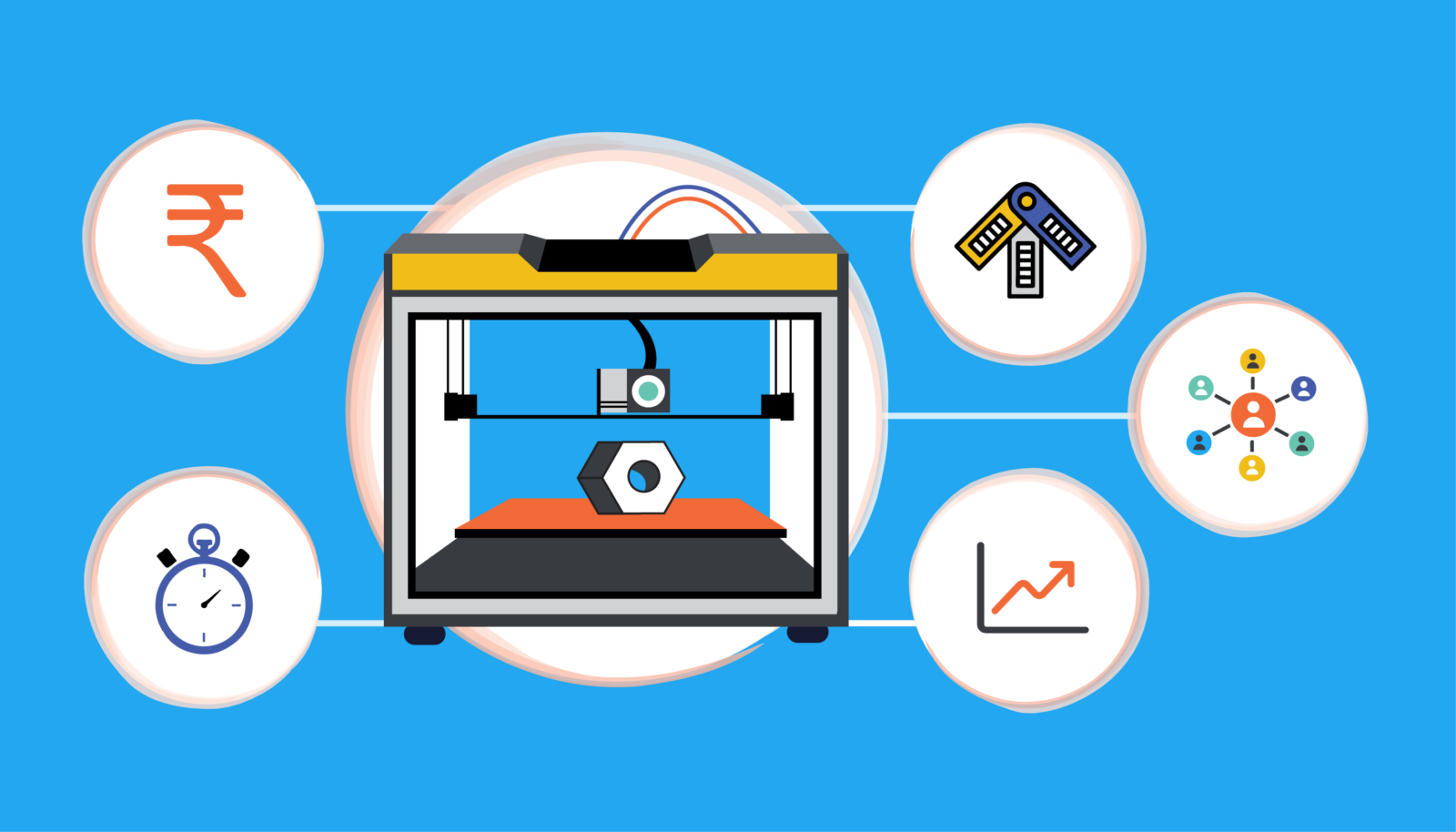 "A technology (3D printing) once seen as only suitable for prototyping is dealing with these challenges head-on and leading to evolutions in product designs and manufacturing that simply are not possible with traditional techniques."
-Frédéric Verlon, EOS
The digital transformation wave has flooded the manufacturing industry in the past couple of years. There are monumental changes occurring every day with the help of new advancements in additive manufacturing techniques. From 3D printing car parts to creating living tissues, 3D printers are doing it all. More and more companies are onboarding 3D printing into their manufacturing space. Despite the rise in demand for 3D printing technology, there is a significant learning curve before one begins to deploy 3D printers in a production line. We have curated a list of "should ask questions" that will help understand manufacturing with 3D printers — 
Is 3D printing the right choice? What can one gain out of it?
What are the materials that you can use to 3D print?
What kind of printer works best for your final product?
How to plan and design before printing?
Do you need to prototype?
1. Is 3D printing the right choice?
It is important for the manufacturer to make a fair evaluation of the production cost before making the switch from a traditional manufacturing process to 3D printing. For example, injection molding is a common technique that is effective in churning out identical pieces (thousands or sometimes millions). It can give a great output in a single session of the production cycle. In this scenario where mass production is required for identical final products, the existing injection molding setup is effective. However, if you need to customize the products suiting to a client's requirement. Then a process like 3D printing becomes more viable.
As a manufacturer, it is important to understand what 3D printing has in store. Traditional manufacturing processes like CNC or injection molding have been part of this industry for a long time. In comparison to these processes, 3D printing has the upper hand in several aspects. Let's find out why
Speed: The entire process with 3D printing becomes agile and dynamic. Its flexibility in achieving cost-effective prototypes is a major boost in the design phase of the project. It is easy for design engineers to test their ideas and implement them through functional prototypes.
There are no molds and fixtures required to fabricate products with 3D printing. This saves a lot of time and cost as well.
Also, changes and modifications to the models are implemented immediately. 3D printing has a shorter lead time compared to other traditional methods.
Flexibility: Be it design or choice of materials, 3D printing is flexible in accommodating customer requests. 3D printing is coherent to digital manufacturing. It can make the process customer-centric through services such as — print on demand, remote printing, quick digital fabrication estimation, etc.
High Quality: 3D printed products' quality lies in the middle of the spectrum of quality output from traditional methods (say from casting to precision machining). But if you compare the setup plus fabrication time of a new product vs the quality output, 3D printing is way ahead of the game. And since any change can be easily incorporated digitally, quick quality improvements can be done.
Consistency: 3D printing is an automated process. Once the settings are fixed for the product. It is easy to replicate and print with accurate imitation. The errors in 3D printing are easy to catch and eliminate.
Accessibility: The market for 3D printers is growing rapidly. This has brought down the cost of 3D printers. Manufacturers are now able to build or purchase printers to suit their printing requirements. So there are 3D printers for hobbyists, as well as for aerospace manufacturers.
Sustainable: With 3D printing, the waste generation is minimal for each part when compared to traditional processes. This process is catered to environment preservation.
"The most important one for me is that no complex mold construction is necessary for production. This is primarily an economic advantage. In the past, I always had to incur large financial expenses for the production of models and molds, but this is completely eliminated by using additive manufacturing (3D printing)."
– Philipp Aduatz (Product Designer)
3D printing is constantly evolving and solving manufacturing problems in various domains like aerospace, drones, agriculture construction, etc. So the shift to a digital process like 3D printing can be a step in the right direction. Now that we understand the advantages of 3D printing, we can explore 3D printing furthermore.
2. What are the materials that you can use to 3D print?
Plastics are the most common material for 3D printing. Since the inception of 3D printers, plastic is a go-to option for most manufacturers. It is easy, inexpensive, and fast. A plastic filament is pushed through a 3D printer, which melts the plastic and forms a layer. The advancement in 3D printing led to the use of metal and alloy materials. Also, composite materials are very common in 3D printing. Fabheads is one of the leading manufacturers in India with its in-house fiber 3D printer.
Although the variety is large — polymer to metal to ceramic, etc. Traditional processes still do have a wider material choice. This is primarily because not all materials (metals, plastics, etc) can be temperature controlled. 3D printers are not always designed to withstand high temperatures. This is why materials like glass or gold have still not been 3D printed for commercial use. For example — In aerospace, titanium secondary structures are 3D printed, but there may not be a 3D printing solution for something like Niobium.
The choice of material is important when it comes to manufacturing with 3D printing. It will help the manufacturer pick a suitable process for 3D printing.
3. What kind of printer works best for your final product?
Based on the material, there are different printing techniques like — 
FDM (Fusion deposition modeling): Nylon and plastics
SLA (Stereolithography Apparatus): Photosensitive resins
SLS (Selective Laser Sintering): Polyamide, alumide, metals
DED (Direct energy deposition): Metals
If you are interested in learning about the differences in printing processes, you may like to check out our blog on 3D printers. Choosing materials and printers are critical to manufacturing with 3D printers. It sets the tone for your overall production cycle. This brings us to the planning and design part for manufacturing with 3D printers.
4. How to plan and design before printing?
There are three basic steps to the printing process:-
Modeling
Printing
Finishing
Modeling is where you design and plan the entire printing process. The planning phase of production in 3D printing is usually executed on CAD software. It helps the generation of a 3D model which can be fed to the 3D printer through a program.
There are many CAD software that helps one design the 3D model. Here is a list of software to name a few.
After the CAD modeling, the print is saved as STL or AMF formatted file. Here the file is checked for common errors (holes, gaps, alignment issues, self-intersections) to prevent any defects on the printed model. The CAD model is then sliced to get a layer-by-layer geometry, which is what the 3D printers use to fabricate the part.
Here are few slicing softwares
It is also important to consider the precision and accuracy of the printer to get the best quality 3D prints. During the planning phase, you must look at some printer parameters like — print speed, retraction distance, first layer height, infill settings, and temperature settings. The great thing about 3D printing is that it is easy to make changes on the go. As the entire process is low in cost, prototyping is a formidable option.
Also, after the print is complete, you will need to post-process your product to give them a smoother, finer finish as per the function. To know more about the post-processing techniques for 3D printed parts, refer to our blog
This brings us to our next question…
5. Do you need to prototype?
Not long ago, when people talked about 3D printers they associated them only with prototyping, which is indeed the biggest functional domain for 3D printers. As 3D printing got cost-effective, it is now extensively used for prototyping. Rapid prototyping in the manufacturing process has become the need of the hour with 3D printers entering the scene.
Medical industries heavily rely on prototypes in the day to day operations. With the modern 3D printers it is now possible to create functional and working prototypes. This helps the engineers understand the shortcomings of the model at the early stage of production. 3D printers have improved the quality of prototypes by making them similar to the final product. Here are some reasons to help you understand the need to prototype —
Multiple iterations — allows flexible design changes at any stage in production.
Saves time and cost: With 3D printing, it is easy to pick materials that are low in cost, like plastics. Printing cost and time for prototypes are shorter compared to a traditional manufacturing setup.
Effective testing on functional prototypes helps improve the functionality of the final product.
It is easy to comprehend the touch and feel of the product through its prototype.
For prototyping, 3D printers have always been the obvious solution. As it is inexpensive. However, 3D printed prototypes may not always offer the required strength for testing. The materials may fail in mimicking the properties of the materials used in the final product. For testing, the right material selection can have a huge impact. The manufacturer must also consider that there is a significant lack of accuracy when it comes to 3D printing prototypes.
Conclusion
We saw in this article that although traditional processes still hold their ground in some niche requirement areas, 3D printing is growing exponentially in most fields, given the advantages offered by it.
Manufacturing with 3D printers will continue to dominate the Industrial Revolution 4.0. The shift from traditional processes to digital processes is inevitable. Medical Research is leaning towards bio-printing methods to help combat deadly diseases. Automotive and aerospace companies are innovating with 3D printers to build lighter, low-cost, and high-performance parts.
Therefore, for companies to keep up with the ever-changing and growing market they must welcome 3D printing into their manufacturing process. 3D printing is more practical and viable in current times. Throughout this article, we tried to answer questions that would help people understand the urgency and need to start using 3D printing.
3D printing has come a long way in recent times. Let us know what you think about 3D printing and its future in the manufacturing space (in the comments section below)!
Fabheads being a manufacturing automation company continues to align with the latest advancement in the field of 3D printing. We aim to take manufacturing to next level with our indigenously developed continuous fiber 3D printer. Fabheads actively serves across a wide range of domains like — aerospace, automotive, defense, etc.