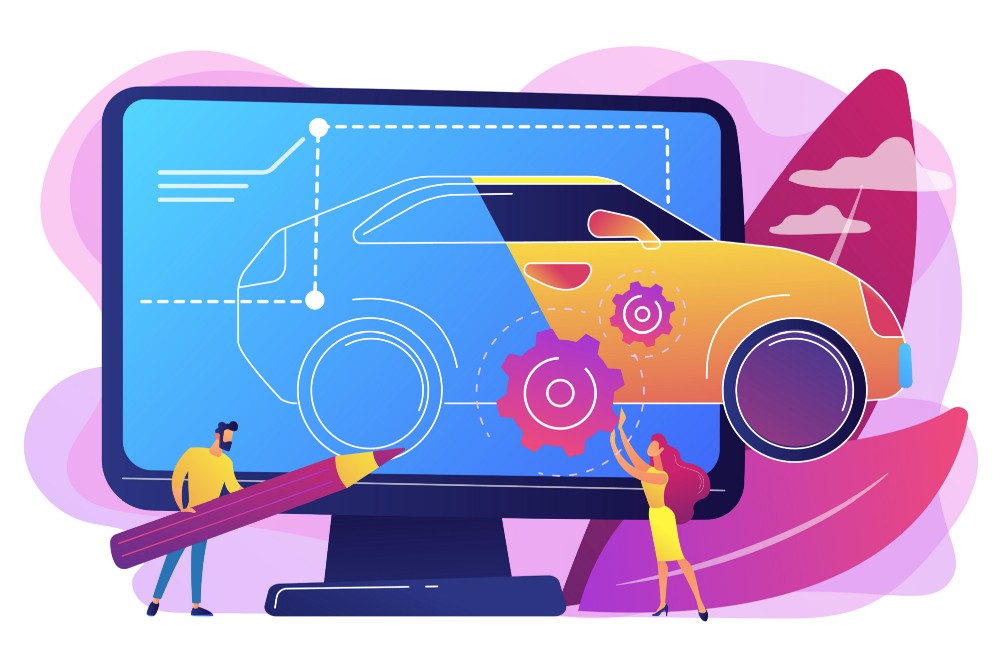 The first step in manufacturing is to think about what your final product may look like. Visualization is the key for every designer, engineer, or manufacturer. A visual representation of our imagination can help in understanding the shortcomings of a design.
As 3D printing enthusiasts, you probably understand the importance of creating a 3D model. The translation of an idea into a pictorial 3D figure sets the tone for the entire production process. The one software that 3D printing can not devoid itself of is the CAD software!
This brings us to the focal point of this article. In our discourse will look into the following sub-topics related to the CAD software…
What is CAD?
A brief history of CAD
Types of CAD modelling
CAD files used in 3D printing
What does one need to build their own CAD software?
India's Potential in the CAD world
What is CAD?
CAD stands for computer-aided design. It is used to create, analyze, modify designs for pictorial representations. It is a common tool used by designers across various fields — architecture, construction, automobile, aerospace, etc.
The software was initially developed in a computer language called Fortran. However, with the introduction of OOPs (object-oriented programming), there was a significant shift which lead to developing CAD software based on a parametric feature modeller. It started to use the C language and build APIs (application programming interface). 
The CAD systems architecture has three main components — GUI (graphic user interface), operating system, and database. The GUI in CAD is built using NURB geometry/boundary representation (B-rep) with the help of a geometric modeling kernel. CAD can now support multiple operating systems like Windows, Linux, Mac, etc. The CAD software is capable of doing tasks with minimal hardware requirements. This makes the software accessible and easy to use.
CAD software in 3D printing
3D printers run based on a set of instructions. These are captured through 3D modeling on CAD software. A file generated out of the CAD softwares is later used by the printers to print the given model. The CAD file helps one determine the materials requirements and structure of the overall design.
CAD softwares typically generate STL files (there are different types of files which will be discussed later in this article). It stands for "STeroLithography," sometimes also called — Standard Triangle Language/Standard Tessellation Language. This STL file contains the structural details that are easy to understand by computers.
If you like to know more about what happens to the STL files, we have just the right article for you on slicing software
The function of CAD softwares is the root of all manufacturing and production. Technological advancements have made this tool a key component that is not only advance but easy to use. Let's look into the journey of CAD to understand how we got here…
A Brief History of CAD
It might not be easy for today's generation of engineers, designers, or architects to imagine a world without Computer-aided design. However, before CAD software disrupted the world of design. Engineers had to make their models on sheets of paper with large drawing boards. They used simple tools like — varied grade pencils, set squares, t-squares, etc., to get the most accurate representation.
The early inception of modeling software came about due to the need for visualization. In the beginning, CAD systems were in place to just serve as a replacement for 2D sketch boards. It was to store the digitized drawing of a model. As time progressed, engineers started to learn more about computers. It enabled them to change and modify designs with minimal effort using CAD software.
In 1957, Pronto was the first commercial and numerical control programming system introduced by the father of CAD — Dr Patrick Hanratty. This lead to subsequent adaption by various engineering companies. Established companies like Ford, Seimens, Lockheed Martin started to use 3D CAD software to create designs for their respective manufacturing segments. Eventually, they started to upgrade the software using in-house software tools which would cater to their requirements. The transformation and growth of CAD software are traced in the timeline below…
Types of CAD modeling
Solid Modelling
Parametric Modelling: 2D sketches are used to create the model. It has a history tree that can be modified. The tree inscribed features, functional relationships with other sketches. The major advantage of this modeling is that changing a single parameter will automatically adjust the remaining parameters. The framework behind such models consists of mathematical equations. It is commonly used in designing buildings or structures in architecture.
Direct Modelling: It is similar to parametric modeling. However, it does not have a history tree. This type of modeling is favourable for those one-off designs that have very little change in structure. It is commonly used for rapid prototyping and short production cycles.
Surface Modeling
This type of modeling is dependent on the surface to form the geometry of a given object. It allows one to look at the object at a certain angle. It can also be divided into two categories — parametric and freeform.
Code-driven Modeling
This type of modeling is still at its research stage. Academia is trying to optimize CAD modeling, using techniques that will automate the framework of the software. The idea is to derive the design out of a set of conditions provided by a designer. This modeling is suitable for 3D printing and can help build 3D structures that can be manufactured with high accuracy.
CAD files used in 3D printing

CAD modeling is common across various sectors, but when it comes to 3D printing, CAD software is the backbone structure of this technology. Understanding CAD from the perspective of 3D printing is crucial for additive manufacturers. Let's look at the types of files that we use for 3D printing.
The three most common types of files available in the market today — 
IGES/IGS
STL
STEP
IGES/IGS (Initial Graphics Exchange Specification)
This is one of the oldest formats of CAD files available. It was adopted by American National Standards Institute (ANSI) from the US air force who used CAD geometry between 1976 and 1984. This type of file is often unsupported by some of the latest CAD versions.
STL (Stereolithography or Standard Tessellation Language)
This type of CAD file is made exclusively for 3D printing by 3D Systems. This is why STL is a better option when compared to IGES. They can be further divided into ASCII (large-sized files) and Binary (compressed files). It is recommended to use binary files due to their smaller size. The biggest disadvantage of STL files is that it does not cater to holes, gaps or water tightness while manufacturing certain products.
STEP (Standard for the Exchange of Product model data)
This file format was created exclusively for the aerospace manufacturing industry. The latest version is now being adopted in the automotive industry. It can also save the layers with colour as well as export itself into an STL file. This helps in understanding the solid bodies a bit better. This is why the STEP file format has a slight edge compared to the STL format.
Popular CAD softwares in the Market
Autodesk
Autodesk is an American-based company that offers multiple solutions in CAD programs. CAD solutions from Autodesk are used across manufacturing, automobile, robotics, and medical industries.
Here is a list of a few CAD softwares that they developed…
AutoCAD 360 (Free) — Mobile (iPhone, Android, Windows)& Web-based application.
Fusion 360 (Paid) — cloud-based software. Popular among mechanical engineers and designers. It gives a good mix of engineering, designing, and manufacturing.
Tinkercad (Free)— It is a popular software used for 3D printing. Hobbyists, educationists, and designers use it to make 3D models. It is simple and easy to use. Hence, suitable for beginners.
Dassault Systèmes
Dassault Systemes is a European company that has a wide range of 3D printing softwares. They build softwares that help in 3D designing, CAD, simulations, and process management. Their products are common across the defence, automobile, and aerospace sectors.
Catia (Paid)— A cloud-based software. It is one of the most popular CAD softwares used in the automobile industry. Big companies that use additive manufacturing rely on Catia for their 3D modeling. Companies like Tesla, BMW, Porche, Ford are a few examples from their massive database of customers.
Solidworks (Paid)— The software is built on the system of NURBS. This enables one to make detailed and intricate models. It's a go-to option for those who want to build a parametric modeling-based design.
The CAD market is wide and versatile, these companies have dominated this market for decades. As more startups in manufacturing sectors emerge, the need to use CAD software will only increase. This points us to the market potential of CAD system software. Which is why we need to ask an important question — what if we make our own CAD software that is custom-made to suit our own services? Let's find out…
What does one need to build their own CAD software?
Many manufacturing companies have built their own CAD software to fuel their production. In-house softwares are capable of solving specific design-related problems that are unique to the company. It is also cost-efficient and can be sold as a product. Fabheadsis also currently working on building an in-house CAD software. As a manufacturing company, we rely on 3D printing which needs intensive use of CAD software. A custom made software will help us create features that can be easily integrated into our production pipeline.
Here are some basic elements that one needs to consider for building CAD software from scratch.
Geometric Kernel: It is the backbone of the entire CAD system. This will help in creating a foundation for topology mapping. It is the most time-intensive and research-oriented job. If time is the essence, then there are 3rd party kernels that can be used such as — Parasolid, OpenCascade, ACIS, etc.
Topology: The mapping of different elements in the software like — body, faces, edges are controlled by the topology. Management of various features is structured through this component.
Features: Depending on the industries that you cater to, your design requirements will vary. For example — automotive industries use surfaces and solid modeling features.
UI/UX (GUI): This is where you need to look into the rendering of models, pipelines, viewers, textures, outlines, dialogues, etc.
India's Potential in the CAD world

Onshape is a CAD software system built on a SAAS (software as a service) model. It is heavily dependent on Indian engineers to build, sustain and develop Onshape.
"We came specifically to Pune because there is a lot of CAD and geometric modeling experience here. This will primarily be a development facility, and we may add some support functions later"
 — John McEleney, CEO of Onshape
We can derive that there is a huge talent pool in India who are experts in CAD. Therefore, big companies from the west are slowly turning the tide and heading to India!
Conclusion
Almost after 60 years since its inception, CAD software has evolved into a giant beast. It is now believed to be an $8– 9 billion dollars worth market (annually). It is the core of many industries including 3D printing. It is next to impossible to imagine what a 3D printing pipeline would look like without the CAD software.
Our aim through this journey was to understand the role that CAD software. We talked about different models and structures that can be built using 3D modeling. We also touch-based upon existing CAD softwares in the market. This led us to look at various components that could help us build our own CAD system!
One of the biggest take-aways from this discussion is — the future of India in CAD-based projects. The growth in additive manufacturing and 3D printing proves that there is a dire need to focus on creating R&D for complex technologies like CAD. This will benefit various industries that use CAD as an integral component in manufacturing. It will encourage many startups (like Fabheads) to embrace the "make in India" initiative and contribute to the global economy.
Please tell us in the comments below — what you think of building your own CAD software?